Learn the details to the straight ankle locks and other IBJJF friendly leg locks from the same source as Rodrigo Cavaca, Roberto Cyborg Abreu, Denilson Pimenta and other great Champions
Are you interested in learning leg locks but scared of getting DQed for doing them?


Learn the same Leg Lock details that I have personally shared with several World Champions including Rodrigo Cavaca, Marcus Almeida Buchecha & Rodolfo Viera.
Learn and better understand how to apply these locks in a LEGAL way
Use Ankle locks to set up other parts of your game and learn the finishing details.
Finish from 50/50!
Learn leg lock avoidance, counters and escapes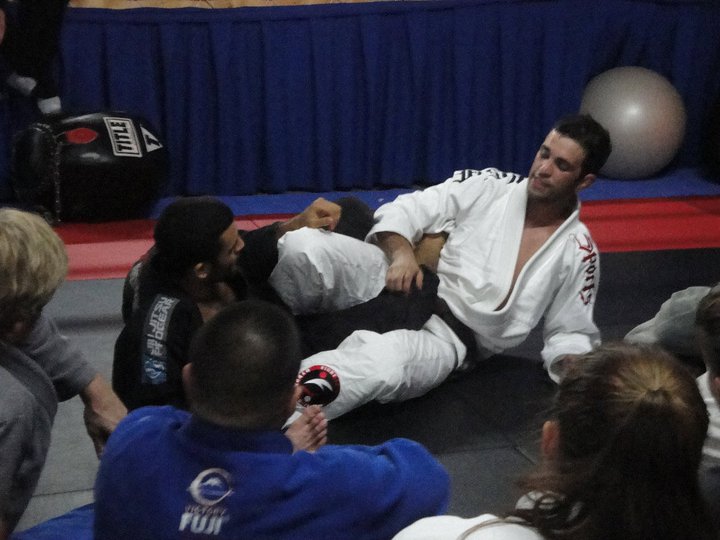 Here's the index of the app:
FUNDAMENTALS

Intro
Grip
Power Sources
2 Drills for the Grip
Straight Ankle Sequence
Re Adjusting Ankle Lock
Belly Down Ankle Lock

50/50 & CROSS LEG ATTACKS

Cross leg attack
Crunch Technique
50/50 Attacks
Escaping 50/50 to the top

SWEEPS TO SET UPS

1 Leg X-Guard
Recover Failed Straight
Back to the top
Pass the leg
Strategy in Passing

DEFENSE & COUNTER OFFENSE

Straight Ankle Counter
Toe Hold Counter
Estima Lock
Escape 1
Escape 2
Escape 3

HIP LOCK, KNEE BAR & CALF SLICER

Hip Lock
Knee Bar Escape
Knee Bar Fundamentals
Calf Slicer Detail

ABOUT

Giving Credit
Roli Delgado
Here's some examples of videos you'll get emailed when you sign up:
Here's a video of one our purple belts here at Westside MMA. In many ways the straight is a safer attack because they don't slip or roll out as much as heel hooks. Zac is a killer with foot locks but often does the IBJJF version because he's developed so much strength with the grip. The grip will be broken down 100% on the APP. If you don't want to watch the whole fight skip to 6:10 seconds in the vid and see his 1 legged x-guard entry. Not 100% like I teach as far as the sweep is concerned but the finish is SHARP!
Check out what some of these champions and world class competitors have to say:
Rodrigo Cavaca - Checkmat

Roli Delgado my good friend, I would like to thank you for teaching me many footlocks details, that have helped me when I winning the world championship in 2010, I am very grateful to you, Roli Delgado and his team Westside MMA. A big hug from a friend Rodrigo Cavaca

Denilson Pimenta - GFTeam

Roli showed me a lot of Leg Lock details and techniques when he was in Brazil. I've already used the locks very successfully to get the finish in fights here in Brazil! He is the Master of leg locks.

Roberto "Cyborg" Abreu

Roli taught an amazing seminar at my academy. He is a MASTER of the foot locks. Now in my academy we do them much more often with great success.

Tony Tipton - Genesis BJJ

If you are interested in learning new, well thought out, and effective leg attacks you must check out the techniques shown on Roli's new DVD. Roli is a super technical instructor with a passion for teaching and his students. Thanks for helping me round out my leg attack game Roli!!

Marcel Goncalves - The Avengers

I had the opportunity of work with Roli and he really change my game. Roli has a lot of knowledge on martial arts and he's a specialist on foot locks.

Thanks Roli for all what you have share with me.

Albert Hughs - Genesis BJJ

We've had Roli in to teach Leg Locks at Genesis and we really enjoyed the details. Def a game changer on where to put your feet!

Jake McKenzie - Fight Sports

Roli Delgado is one of most knowledgable foot lock practitioner I have had the experience to train with.

Italo Lins - GFTeam

I am a black belt Italo lins from GFTeam , I stayed for two weeks in Arkansas for Teaching and train with Team Westside MMA, and in only 2 weeks I could see how cool, fun, and this team is interested. In addition to teaching, I learned a lot, I'm using a lot of foot locks and knee, I learned from Professor Roli Delgado is a master in them... As I said earlier enjoyed being in Arkansas with the westside, I hope to return soon.Thanks to all of the westside especially for Hillary, Roli and Matt... ossssssssss

Marcio Oliveira - Fightsports

I love these guys, I trained at Westside MMA. Teaching the Brazilian Jiu Jitsu classes and also learning leg locks. Now I have some wins with leg locks!

Din Thomas - American Top Team

Best straight ankle lock, period.

Cole Miller - American Top Team

I used to only worry about defending footlocks, attack them for a sweep, or use as a diversion in the 50/50 guard. Now, with details from Roli, I am very confident in attacking the footlock to finish my opponent with the submission.

Joel Gingery - Marcelo Garcia BB and Pan Am Champion

Roli is very knowledgable and knows how to convey the leg lock game very well.